Welcome to Dogwood Acres Campground
The campground is so easily accessible from Harrisburg, Gettysburg, Carlisle and Hershey, yet a world away in terms of peace, quiet, and sheer relaxation. Whether your definition of camping involves a tent, pop-up camper, trailer, motorhome … or one of our great cabin rentals, choose Dogwood Acres for your family's next camping experience, and you will have chosen one of the highest rated campgrounds in the United States!

On December 3, 2010, Dogwood Acres Campground was awarded the 2010-11 Park of the Year Award from the National Association for RV Parks & Campgrounds. The "Park of the Year" award is the highest honor given to campgrounds, RV parks and resorts.

Charlie and Lucille Strub, owners of Dogwood Acres since 2001, are humbled for winning this award. "We are blessed to have such great folks that come and spend their summer vacations with us. With the generous outpouring of assistance that comes from watering the flowers to maintaining Frisbee baskets, to keeping individual lots spruced up, this award is for all of you, too. Thank you, to our seasonal friends and weekend campers for making Dogwood Acres Campground Number 1 Small Park of the year."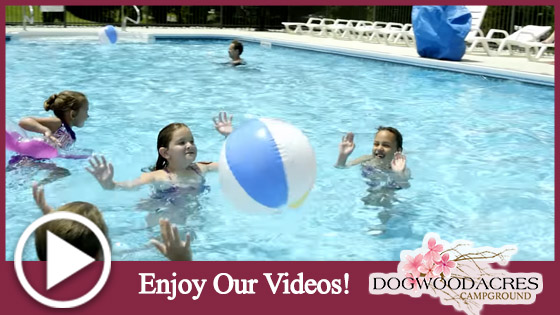 Spacious
With 100 spacious and shaded full hook-up sites, along with tent sites and cabins, Dogwood Acres has you covered. Whether your family brings a tent, pop-up camper, trailer or motorhome, we've got the perfect site. If you are new to camping, you can rent one of our three styles of cabins to enjoy a family camping vacation experience that is sure to last a lifetime.
Our Newsletter:
Dogwood Acres Campground would like to keep you informed of upcoming events and special offers. Please use the form, below, to sign up to receive our e-mail newsletters.


We promise not to contact you too frequently, and we assure you that you may opt out at any time and that we will never share your information with any third parties. Our only intention is to help you to stay in touch and to make the most of your camping experience at Dogwood Acres.